I have my second New Year's resolution! It's to go here at least once a month: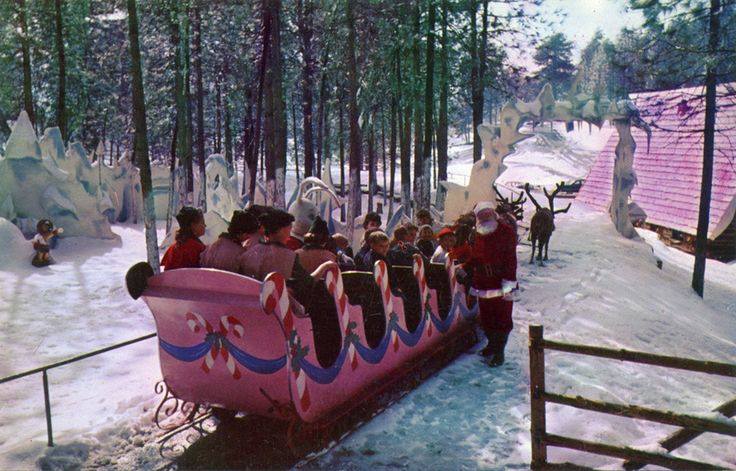 This is Santa's Village, and it's only ten minutes from my house. It's been around since I was a kid, but ironically my first time coming here wasn't until I was an adult. Specifically, last weekend. As you can see, it's pretty adorable and magical. My sis and I spent most of our time ice-skating and drinking the most delicious hot cider (spiked with
Maker's Mark since I had a nasty cold and whiskey is my DayQuil). The kids meanwhile ran around climbing rock walls and doing who knows what else.
You might be thinking I've lost my mind wanting to come here once a month in 2019. Adorable and magical is good and all, but why the heck would I want to visit a place replicating the North Pole in, say, July? But believe it or not, this place is actually open all year long, and that's because in summer the emphasis is on THIS:
Skypark! It's a bike park at Santa's Village with awesome trails for all levels of riders, ranging from beginning to expert. They have bikes to rent, or you can bring your own. Clint and I purchased mountain bikes last year and have been looking for some awesome trails around here, and I dare say it doesn't get better than this. The best part of it is the trails dump you out right into the village. Specifically, the bar (a very cute and quaint cottagy-looking bar). Which means I can finish my bike ride with a nice cold beer or refreshing margarita!
This is heaven to me, guys.
Oh, the village also has rock climbing for the kids, zip-lining, and a rollerskating rink (that switches to ice-skating in winter). So we'll have all sorts of entertainment.
So here goes:
New Year's Resolution #2:
I will g
et my lazy butt to Skypark once a month to enjoy fun, outdoorsy stuff with the fam.
It seems weird that I have to make something fun into a resolution, but I kinda have to. This past year or so I've become a huge home-body. I'm exhausted from working all week so the temptation to spend my weekends as a hermit is hard to resist.
To ensure I meet this resolution, Clint and I purchased our season passes last night.
I can't wait for warmer weather! But cold weather is good too...that just means more ice-skating and spiked cider.